Halfway up the steps, as you climb from the landing stage through the forest to the Rütli, you will pass a barn, which also houses the smallest museum in Switzerland. The "Musée Grütli", just 80 square metres in area, is currently hosting a free exhibition on cultural and social issues in Switzerland that is scheduled to run from May to October.
"The ins-and-outs of Helvetisms": a travelling exhibition
15 May 2023 – 15 October 2023, 10 am – 4 pm daily, Musée Grütli, Seelisberg
From October 15th – November 8th, 2023, open every Friday to Sunday, 10 a.m. – 3 p.m.
For breakfast in German-speaking Switzerland, they eat a "Gipfeli" and drink "café crème". In French-speaking Switzerland, you'll find "rösti" and "spätzli" on the menu, while in Italian-speaking Ticino a "wienerli" is also a popular dish.
And right now, at the Musée Grütli, you can discover more about words used in the German, French and Italian languages as they are spoken only in Switzerland: so-called Helvetisms. They arose through exchange between the national languages and within the individual languages themselves under the influence of the dialects. However, they are not examples of Swiss dialect, but are part of Switzerland's written or standard languages.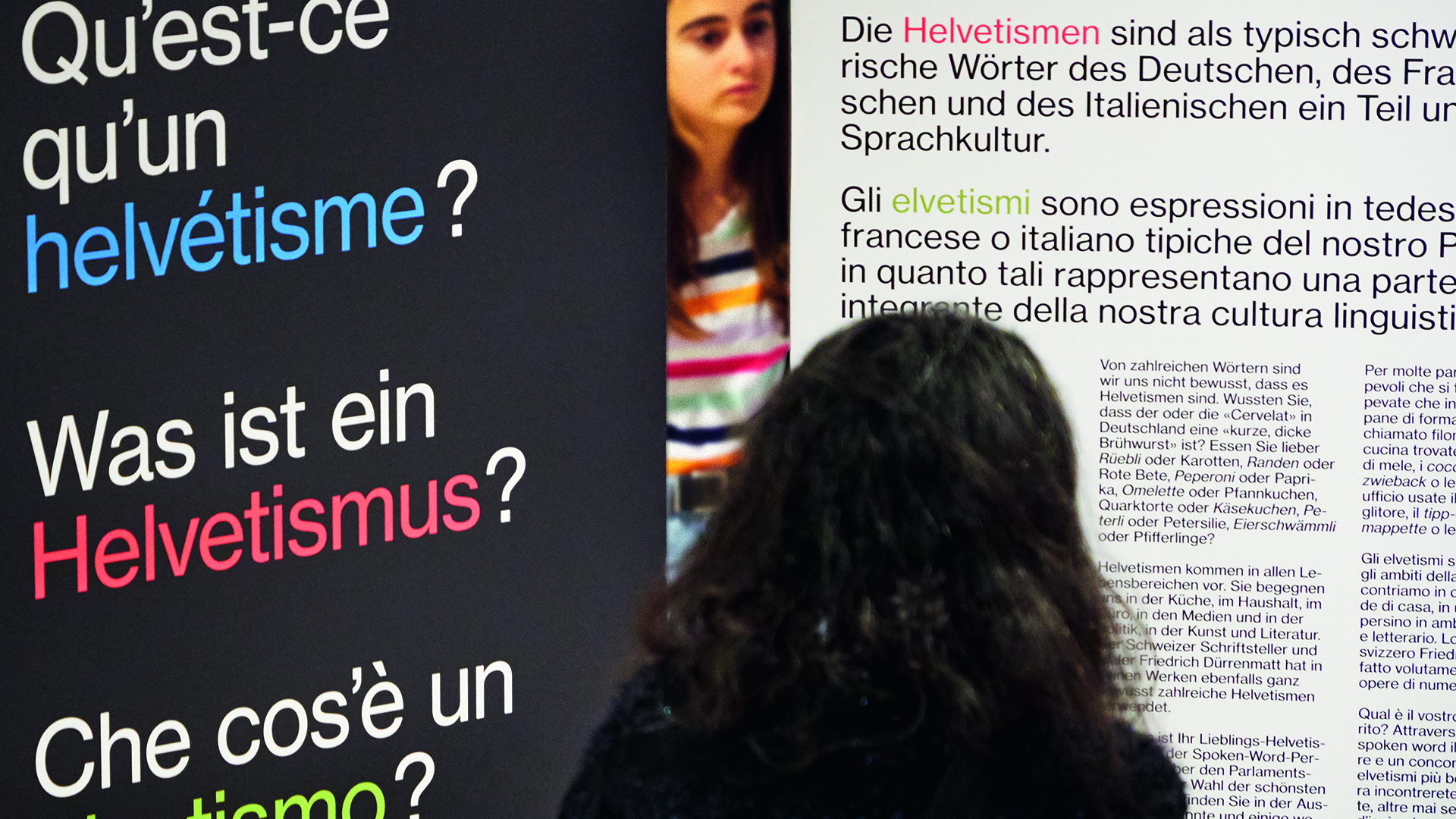 An interactive exhibition ideal for groups and school classes
The exhibition gives visitors a chance to experience Helvetisms directly. On a three-metre map, they will find their favourite Helvetisms together with other unknown linguistic phenomena. Entertainingly staged, it contains excerpts from speeches in parliament, including the legendary scene with former Federal Councillor Hans Rudolf Merz stuttering over the word "B-B-B-Bündnerfleisch". Interactive games and videos of spoken word performances will help you surmount the Röstigraben – the imaginary gap between French- and German-speaking Switzerland – and actively experience the country's linguistic diversity for yourself. The exhibition is fascinating and ideal for groups and school classes.
Last chance on the Rütli
The travelling exhibition was curated by the Centre Dürrenmatt Neuchâtel in collaboration with the Forum Helveticum. The Rütli is its last stop and therefore the last chance to see it. The exhibition includes contributions from the Centre de dialectologie et d'étude du français régional of the University of Neuchâtel, the Forum for Bilingualism, the Osservatorio linguistico della Svizzera italiana and the Swiss Association for the German Language.
The "Musée Grütli" is located halfway up the steps between the landing stage and the Rütli meadow and, at 80 square metres, is the smallest museum in Switzerland. Since 2018, it has staged various exhibitions on Swiss social issues, each lasting for two consecutive summer seasons.
Opening of the Musée Grütli 2018 by Alain Berset