The Intergeneration programme connects generations and promotes intergenerational relations in Switzerland. You support issues relating to generations by using Intergeneration as an exchange platform and contact point. A specialist agency, Intergeneration increases awareness of demographic change and challenges. Intergeneration is an SSCG programme.
Exchange platform and source of inspiration for generational matters
Intergeneration.ch is a major online platform for generational topics. It offers space for dialogue, enables networking and gives access to information. The programme also promotes exchanges with experts, politicians and organisations. It conducts conferences and workshops on intergenerational relations to this end.
The SSCG supported the founding of the now independent organisations Pro Senectute and Pro Juventute. It created the Intergeneration programme in 2010 to promote relationships between the generations.
Become part of Intergeneration
The community only thrives with your involvement. You can contribute to Intergeneration by publishing your projects and participating in discussions.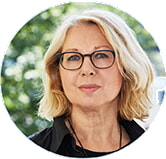 Pasqualina Perrig-Chiello
Professor emeritus of developmental lifespan developmental psychology
Pasqualina Perrig-Chiello
Professor emeritus of developmental lifespan developmental psychology
«In view of demographic and social change, projects like the SSCG's "Intergenerational Care" assume a decisive role. They relieve the pressure on families and give all participants access to social life and meaningful activities.»