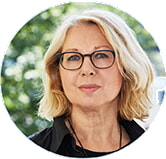 Pasqualina Perrig-Chiello
Professor emeritus of developmental lifespan developmental psychology
Pasqualina Perrig-Chiello
Professor emeritus of developmental lifespan developmental psychology
«In view of demographic and social change, projects like the SSCG's "Intergenerational Care" assume a decisive role. They relieve the pressure on families and give all participants access to social life and meaningful activities.»
Intergeneration is a programme organized by the Swiss Society for the Common Good (SSCG). Intergeneration promotes intergenerational relations in Switzerland. It builds awareness of intergenerational projects and connects protagonists, interested parties, generations and volunteers. At the same time, it provides input and suggestions and sensitizes the population to demographic change and the resulting challenges.
In achieving these goals, the programme has developed two mainstays that have proved successful by mutually reinforcing each other in terms of content and effects.
First, the online platform www.intergeneration.ch is available free of charge to participants and the interested public, and, second, events and mediation provide emphasis and impetus relevant to the programme.
Since 2016, for example, the Intergeneration programme has addressed the development and expansion of intergenerational projects in care institutions. Our central promotional priority, Focus on Intergenerational Care, aims to sensitize care institutions to intergenerational exchange and help them set up and develop generation-related projects of their own.
Caring for young and old together
Encounters between young and old in care facilities have scientifically proven benefits for both generations. The SSCG Intergeneration programme focuses on measures intended primarily for caregivers and their environment. Participants at the most recent Intergeneration conference in November 2018 also expressed the desire for a cultural change in care facilities. In the meantime, several TV broadcasts have addressed the issue of intergenerational support.