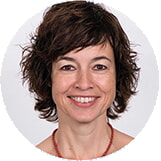 Manuela Steiner-Marthy
Executive Head Liechtenstein, Academy Foundation
Manuela Steiner-Marthy
Executive Head Liechtenstein, Academy Foundation
«Giving individuals a different perspective on life's realities - particularly in our environment - helps them keep their feet on the ground.»
SeitenWechsel (Role Exchange), an SSCG programme, is an individually tailored work assignment in a social institution. Managerial staff can choose whether to work alone for a week or for a whole day with their team in an addiction clinic, a workshop for the handicapped or a work integration programme. In this unique environment, they have the chance to develop their social and leadership skills, improve their ability to handle stress and conflict, and, through their actions, contribute to a social project.
SeitenWechsel offers managers, employees aged 50 and older and interested parties, an unusual opportunity to strengthen their leadership and social skills. SeitenWechsel is not role play: during your assignment in a social institution, you'll be immersed in an intensive learning situation under genuine conditions.
You'll develop tools for handling stress, scarce resources and different types of people. It means companies can combine staff training with social commitment.
The pilot project was launched by the SSCG to mark Switzerland's 700th anniversary and has been operational since 1994. To date, over 3000 managers from a variety of companies have benefited from this unusual form of training.
Contact us now for a free consultation and find out more about this unique form of further education.
Further information: https://en.seitenwechsel.ch/home-en