SeitenWechsel (Role Exchange), an SSCG programme, offers further training in the field of personal development for managers from the private sector. Participants work for a week in a social institution of their choice. SeitenWechsel connects two different worlds, contributing to mutual understanding and cohesion in society.
With SeitenWechsel, managers and interested parties immerse themselves in the everyday life of a social institution for a week. In a unique context, they develop their social and leadership skills while improving their stress and conflict management capabilities. SeitenWechsel raises awareness of social issues and encourages people to volunteer.
The SSCG launched the project in 1994 as part of Switzerland's 700th anniversary and is active throughout Switzerland.
Take part in a SeitenWechsel assignment
Contact the SeitenWechsel team for a free consultation.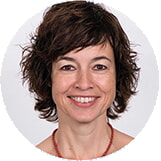 Manuela Steiner-Marthy
Executive Head Liechtenstein, Academy Foundation
Manuela Steiner-Marthy
Executive Head Liechtenstein, Academy Foundation
«Giving individuals a different perspective on life's realities - particularly in our environment - helps them keep their feet on the ground.»