The first Federal Day card went on sale in 1910. It contained the words Pro Patria and cost 20 cents. This first promotion raised CHF 29,000, with the money going to help the victims of the catastrophic flooding at the time. In the early decades, the Pro Patria board of trustees would always agree the beneficiary of the funds raised with the Federal Council.
In 1938 the first Federal Day stamp was produced; a supplementary tax was payable on it. The 10-cent stamp featured an image of Tell's Chapel and the supplement was 10 cents. In 1952 the reference to the 1 August and the Federal Day celebration gave way to the Pro Patria designation. In 1967 sales hit a historic high at 37 million stamps. The additional tax imposed on the Federal Day cards was dropped in 1938 but they continued to enjoy great popularity as art cards until 1960.
The Federal Day cards are witnesses to history in the form of little works created by Swiss artists and featuring texts designed to give people something to think or smile about. They go out as messages of greeting to the whole world and come back to Switzerland with best wishes from all four corners of the earth. They testify to the bonds that exist among friends, acquaintances and family members at home and abroad and are an expression of a cohesive yet cosmopolitan Swiss identity.

Author of the book and editor of the card collection:
Guido A. Zäch
Cards: ISBN 978-3-03818-012-8 / CHF 29.00, to order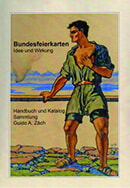 Book: 552 pages with over 1650 colour illustrations,
ISBN 978-3-03303-555-3, CHF 48
More information: www.guidozaech.ch