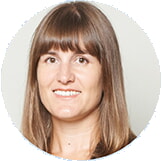 Christine Matthey
General Manager, Forum Helveticum
Christine Matthey
General Manager, Forum Helveticum
«The Forum Helveticum works to improve linguistic and cultural understanding between Switzerland's various language regions and is pleased that initiatives like the one organi- zed by the SSCG help to foster social cohesion in our country."»
Since its foundation in 1810, the SSCG has been committed to the cohesion of society in Switzerland. The SSCG is currently examining how it can and should commit itself more effectively and selectively in the future to social cohesion in Switzerland. Ten workshops involving experts are exploring the future challenges of a heterogeneous, mobile and digital Swiss society and discussing possible measures. What are the factors and forces that unite society and which ones divide and polarize it? The workshops address areas of cohesion, intergenerational relations, narratives and identities, diversity and inclusion, participation and democracy, equitable distribution, gender equality, linguistic diversity, the division of labour in a digitized world and the urban-rural divide. The discussions that have already taken place have generated numerous findings and even more unanswered questions:
Social cohesion becomes a priority on the political agenda, particularly when it comes to early French at schools east of the Sarine.
In Switzerland, no social group is in the majority, nor is there a dominant culture. Instead, there are many different minorities who know little about each other.
At a time when people either network globally or withdraw into their own local and private spheres, why should anyone today promote social cohesion at national level; this, in a country not bound by a common language, history, culture or religion?
What we need is a new declaration of solidarity between the generations: an agreement that removes insecurity for young people and enables sustainable development of retirement/survivors insurance and pension funds, while promoting parental leave and caring communities.
Digitization should not increase disparities between generations and educational levels.
The one factor that holds all parts of society together is values. What are they?
Discussions to date have also led to a formal insight: in Switzerland, and probably in most countries, there is a lack of semi-public, sheltered spaces, laboratories or biotopes in which people can openly reflect on and debate social challenges. On the one hand, these spaces should be more than bubbles of like-minded people; on the other, they cannot be as exposed as arenas on TV, Internet forums or regional communities. The SSCG enjoys a high level of trust among government authorities, social organizations and economic associations and companies. It will, therefore, always seek to promote social cohesion effectively and selectively by creating areas all over the country where the various progagonists need no protection to reflect on and exchange ideas regarding political, social and cultural challenges, and where they can jointly develop and experiment with constructive solutions.