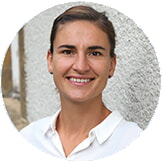 Maximiliane Basile
Initiator of the "Five up" app
Maximiliane Basile
Initiator of the "Five up" app
"Digitization will have a huge impact on the future of voluntary work. I think it's wonderful that the SSCG is actively supporting voluntary work on its journey into the digital eta and is supporting the spread of the new nationwide volunteers' app."
Whether in social institutions, the private sphere or at sports and cultural events, many areas of society depend on the voluntary contributions of private individuals. Attracting volunteers and coordinating their efforts is not always easy. "Five up" simplifies day-to-day work in the fields of formal and informal voluntary commitment. With the right functions and network options, volunteers can be found more quickly and deployed to the right places at the right time – both within their own networks and in the general user community. SSCG supports the development and the spreading of this app in collaboration with the Swiss Red Cross.
Become part of the "Five up" community with your organization and actively shape the future of volunteering!
Further information: www.fiveup.org

From iPhone to big screen
During the lockdown, "Five up" experienced an enormous growth spurt in usage as well as increased media attention. During the first Corona lockdown, the platform recorded more than 75,000 registered users.
The app, which was previously available on mobile for Android and iOS, was supplemented with a web version. This means that the platform can now also be used on the desktop without a smartphone.
Enhanced filter options by text, location and topics improve the quick search for suitable content. Registration is now also possible with Google or Apple ID, making it even faster and more practical. The sorting and logic of the display duration of advertisements has been adapted to significantly improve the relevance for platform visitors. Expired ads are displayed as archived and thus remain findable and reusable beyond the end date. The public groups have been repositioned and can be found quickly by users.
"Five up" perceives the functional needs of users according to the "user or human-centered design method". A sticking point for the development of the company is the business model. A way is being sought to, on the one hand, provide a good tool to a large number of voluntarily and civically engaged people, and, on the other hand, to generate enough revenue to ensure the operation and to continuously re-invest in the further development of the platform. Currently, innovative ideas are being developed that combine the demands today and in the future for a positive impact.
Feedback and development suggestions are welcome by email to info@fiveup.org.