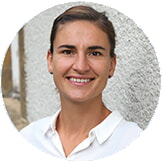 Maximiliane Basile
Initiator and general manager of the "Five up" app
Maximiliane Basile
Initiator and general manager of the "Five up" app
"Digitization will have a huge impact on the future of voluntary work. I think it's wonderful that the SSUP is actively supporting voluntary work on its journey into the digital eta and is supporting the spread of the new nationwide volunteers' app."
Voluntary work in the digital age
Whether in social institutions, the private sphere or at sports and cultural events, many areas of society depend on the voluntary contributions of private individuals. Attracting volunteers and coordinating their efforts is not always easy. "Five up" simplifies day-to-day work in the fields of formal and informal voluntary commitment. With the right functions and network options, volunteers can be found more quickly and deployed to the right places at the right time – both within their own networks and in the general user community. SSCG supports the development of this app in collaboration with the Swiss Red Cross.
Become part of the "Five up" community with your organization and actively shape the future of volunteering!